2020 World Internet of Things Convention Opens in Beijing
2020-12-20
---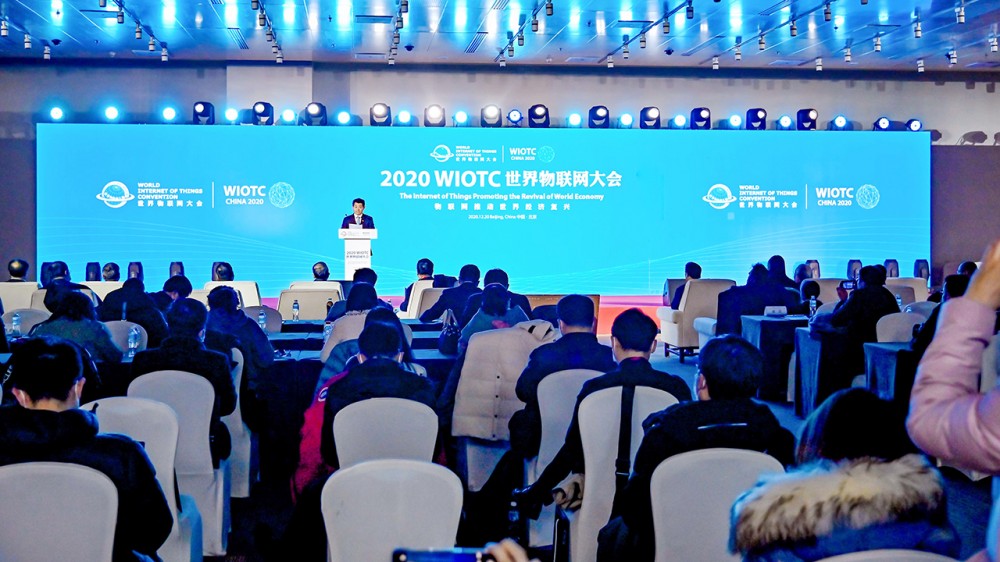 The World Internet of Things Convention as an annual event was solemnly convened in Beijing, the capital of China, on December 20, 2020. Themed "The Internet of Things Promoting the Revival of World Economy", the 2020 conference, cohosted by World Internet of Things Convention,China Electronics Chamber of Commerce and Diplomatic Council, consists of all forms of activities, including Leader's Speech, 2020 WIOTC Report, High-end Dialogue, Forum on Artificial Intelligence and the Internet of Things, Forum on Smart Logistics, 2020 WORLD TOP 500 Awarding Ceremony, Release of 1st World IoT Award, and Online Initiation of IoT World Fair, etc. To begin with, impressive speeches were respectively made by Yu Hongjun, Former Vice Minister of International Department of the CPC Central Committee, He Xuming, Chairman of World Internet of Things Convention, Andreas Dripke, Executive Chairman of the Diplomatic Council, and H.E Mr. Moin ul Haque, Ambassador extraordinary and plenipotentiary of Islamic Republic of Pakistan to the People's Republic of China. In the meantime, Shi Dinghuan, Chairman of 2020 World Internet of Things Convention, delivered a report for the 2020 World Internet of Things Convention; Li Bohu and Ni Guangnan, academicians of Chinese Academy of Engineering gave keynote speeches that won rounds of applauses. This was followed by the High-end Dialogue presided over by Zhang Keping, Executive Chairman of the Special Committee of IoT of China Electronics Chamber of Commerce. International companies and organizations such as GSMA, Huawei, Dongfeng Automobile, CASICloud, IFLYTEK CO., LTD, and Yixian Intelligent Technology Co., Ltd, many major enterprises, foreign ambassadors, diplomatic envoys and representatives of Top 500 Enterprises attended the conference online and offline. In the end, the World IoT Fair was officially initiated online.

In his speech, Yu Hongjun, Former Vice Minister of the International Department of the CPC Central Committee, said the success of this year's WIOTC marked an important moment to see Chinese IoT enterprises further deepen communications with their foreign counterparts, China's modernization further integrate with economic globalization and the Chinese civilization further connect with the world civilization. He also observed that the abrupt outbreak of Covid-19 disrupted our development agendas and disturbed our development steps. "The mankind society has undergone the largest public health crisis unseen in modern history. With dedicated collectivism and heroic spirit, the Chinese people have built the iron wall that guards against the coronavirus and the hegemonism", he said.
"The upcoming 2021 is likely to be a year full of hopes and outcomes or the one ridden with more challenges. But no matter how the international landscape changes and how bumpy the road ahead proves, as the IoT era approaches, all countries across the world will become more interconnected through communications and exchanges and the digital economic process will become enriching and fruitful".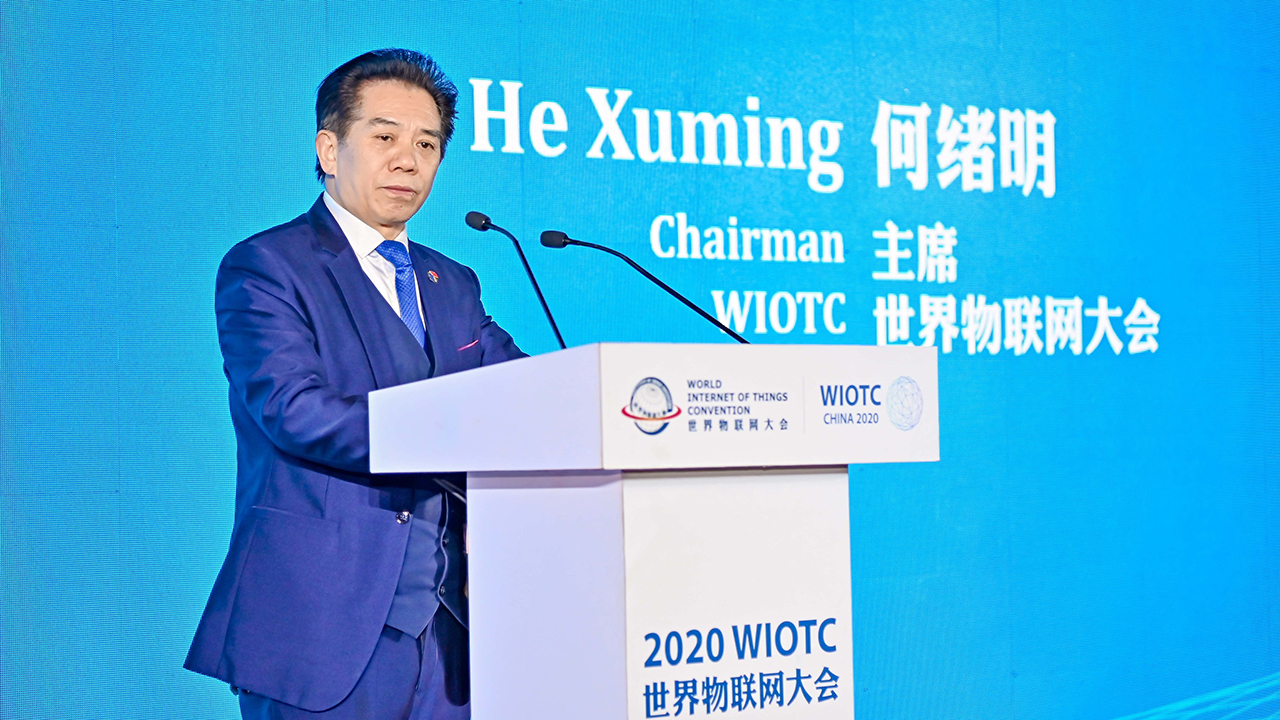 He Xuming, Chairman of World Internet of Things Convention, suggested this annual conference is held with the aim of promoting the post-pandemic revival of world economy, encouraging IoT technological enterprises take the initiative, calling on relevant companies to involve themselves in the development of IoT new economy as well as the investment and construction of global internet of things, seizing golden business opportunities arising from IoT new economy exploration and delivering benefits to people's healthy life and smart business. In his speech, he summarized the development situations and existing problems of global IoT industry. He said the world boasts over 3,000 IoT organizations and development entities, which provide nearly 100 million personnel for the IoT industry and create industrial value worth 10 trillion USD with an annual growth rate of 20% or so. In 2020, a year which witnesses the negative growth of world economy, the IoT industry, however, maintains a steady momentum. He pointed out that governments of all countries in the world should attach great importance to the tremendous economic changes brought about by internet of things. At the same time, he encouraged people with these lines: "The pandemic cannot stop the historical tide of mankind development and progress. What IoT brings us is a great change and revolution with more explosive potential than that of internet and it is a significant carrier of global new economy resulting from the deepening integration of new generation of information technology network and real economy". "Here, I urge all countries in the world to strengthen open cooperation, join hands to overcome difficult times and work together to boost the social and economic development and progress of a smart world where all things are interconnected".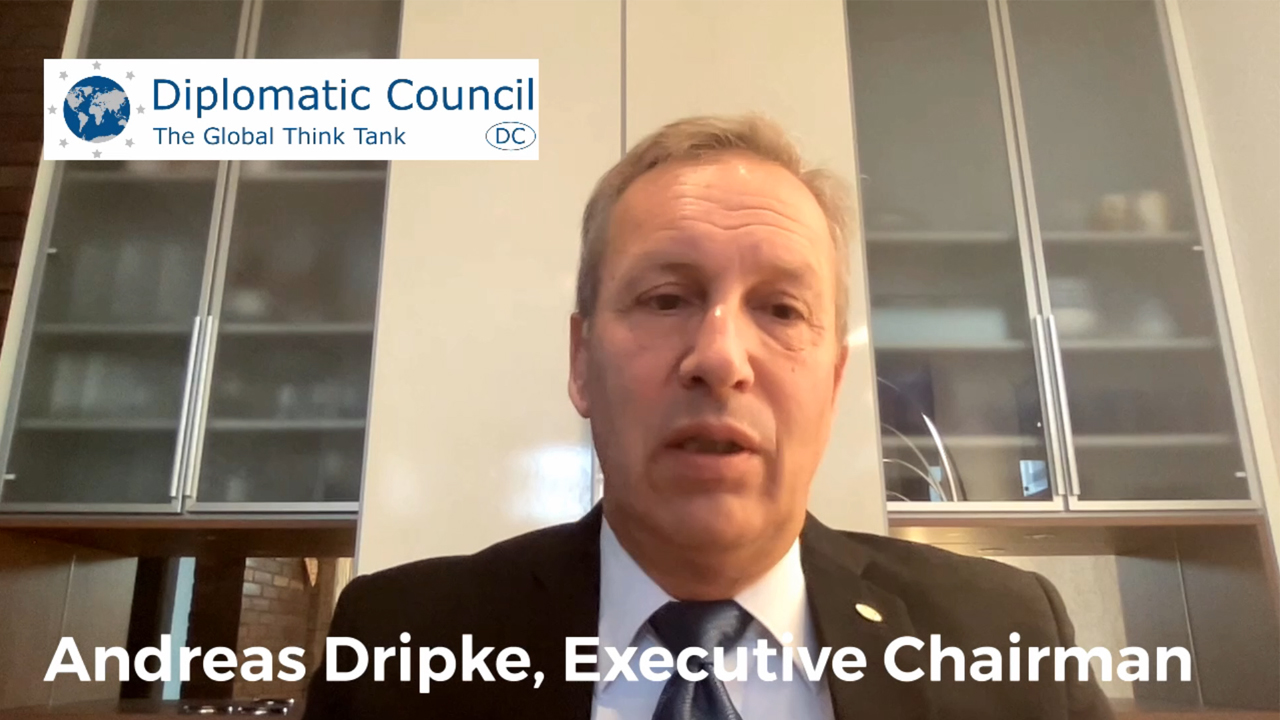 Andreas Dripke, Chairman of the Diplomatic Council, said the WIOTC is one of the most important events in the world, and the Internet of Things is more than technology-it as a driver for change in humankind's livelihood. He also suggested the Internet of Things forms the bridge between the digitalization of the world and everyday reality, therefore, IoT represents a fundamental evolution with consequences for the future of civilization that cannot yet be predicated. "The Diplomatic Council is pushing for a step-up in international debate about the digitalization and its consequences and sees itself in this process as a neutral moderator. We are willing to work together for the construction of world IoT and the development of new economy", he added. At last, he expressed his best wish for the success of the convention.

Moin ul Haque, Ambassador of the Islamic Republic of Pakistan to China, extended his warm congratulation to the opening of the conference and shared his thoughts in his video speech. He said "COVID 19 pandemic has caused many challenges, from the disruption of international trade to economic recessions. It has also provided us with new opportunities, especially in the digital area. Science and technology and innovation have played a key role in China's economic development and social progress. Chinese investments in modern technologies, like Artificial Intelligence, robotics, 5G, big data and internet of things are largely due to the prudent policies, quality of the human resource, world-class IT infrastructure, and long term vision of the Chinese leaders."
Ambassador Haque also proposed the followings: the development of Internet of Things must be inclusive and people-centric; our aim should be to connect the people digitally and avoid digital divide; we should promote international cooperation and solidarity through multilateral approaches; challenge sharing and core development of IoT models should be encouraged while enhancing innovation; and there should be experience sharing and promotion of exchanges, especially for the developing countries.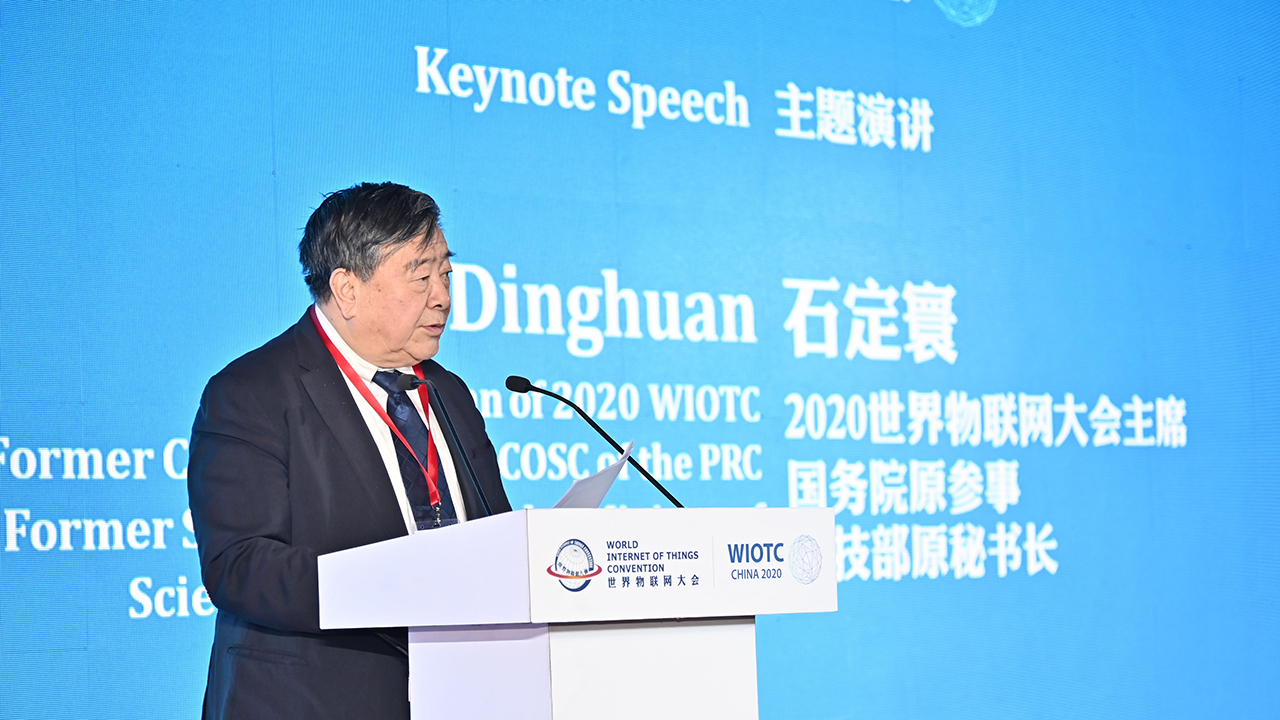 Shi Dinghuan, Chairman of the 2020 WIOTC, gave a keynote speech. He mentioned that in the year 2020, the sudden sweep of Covid-19 exerted a great impact on the development agendas of China and the world and caused havoc with our development steps. He added that the Internet of Things will represent the next great revolution of human society –"Smart Revolution". "In a context where the global pandemic turns hard, we convene 2020 World Internet of Things Convention with the aim of urging and encouraging all people to strengthen their confidence in combating and winning the pandemic battle and promote the development of new economy model", he continued.
In his report, he said the global IoT value reaches around 15 trillion dollars, with the growth rate of output value accounting for nearly 23%. According to him, the rate is expected to add up to 30% in 2021, and by 2025, the industry will have witnessed the output rise to 30 trillion RMB in terms of market value. And he made it clear that China is a country where IoT sees most of application practices and the largest scale of innovative development. "China makes up about one fourth of global IoT output value, which is importantly reflected by the fact that China has completed over 700, 000 5G base stations, expected to create the output value of more than 2trillion RMB", he observed."The accelerating layout of 5G network will bring an important driver to the improvement of industrial economy of world internet of things, whereby such economy in this field has an enormous space for output value, and this trend will gain momentum", he said. Then, he put forward good suggestions for the building of internet of things of all countries in the world and the exploration of IoT new economy.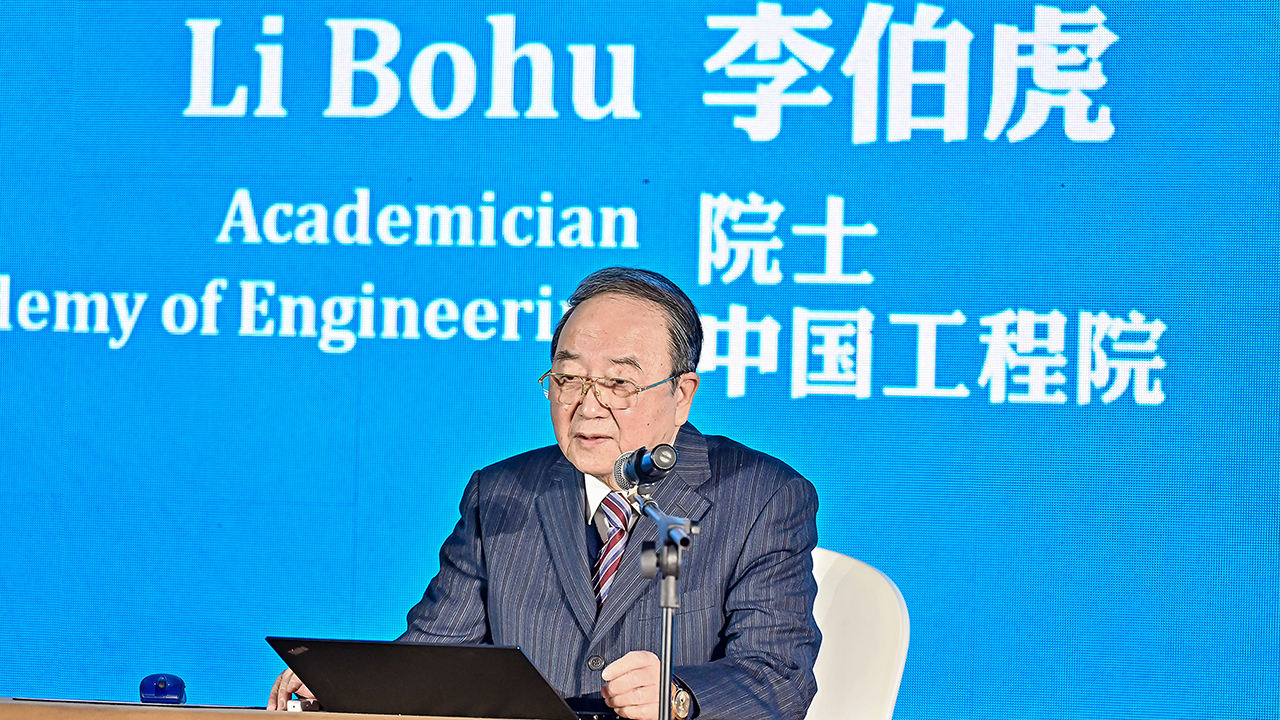 Li Bohu, Academician of Chinese Academy of Engineering, made a keynote speech entitled "Research and Practice of Smart IoT". "New technological revolution and industrial change have quickly gained steam across the world", he said. More than 80 academicians, experts and core backbones in the Chinese Academy of Engineering form the CAE Strategic Research Project Team of "Internet Plus" Action Plan 2035. He spoke of "all things interconnected", "intelligent steering", "data-driven", "sharing service", "cross-border integration" and "mass innovation". "In the activities of whole system and entire life circle, human, machine, thing, environment, and information independently and intelligently sense, interconnect, study, analyze, perceive, decide, control and implement", he added.
Mr. Li also mentioned that with the new generation of AR technology taking the driving seat, the rapid development and application of new internet technology, new information communication technology and new generation of AR technology as well as the deep integration of new specialized technology in application areas will become the key part of core technology in new era. "These technologies will have a great influence upon the model of all fields related to "national economy, people's livelihoods and national security", the new model of technological approach and business model moving toward digitalization, internet, cloud and intelligence and the great change of new technological means and new business model. It can be simply understood as a new form of IoT and IoT new economy building", he said.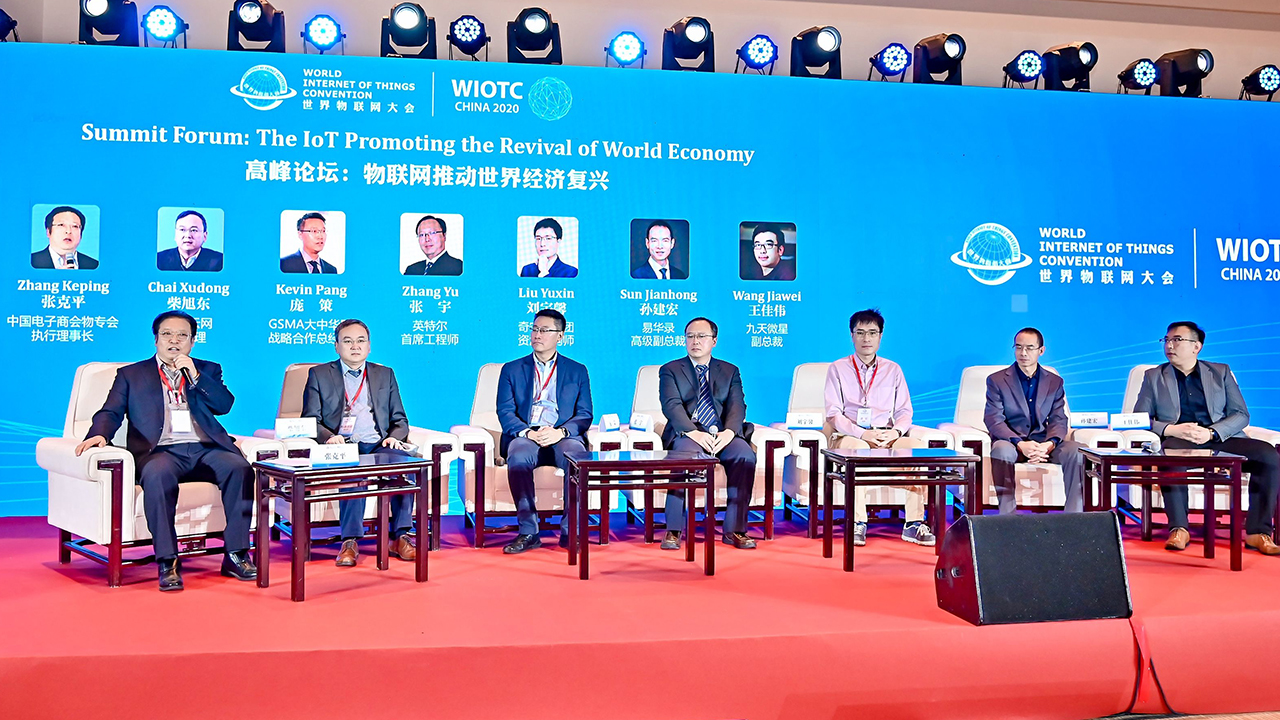 Amid warm applauses the High-end Dialogue began. Zhang Keping, Executive Chairman of the IoT Special Committee of China Electronics Chamber of Commerce, presided over this part as a host. As representatives of IoT enterprises and international organizations, Chai Xudong, General Manager of CASICloud, Pang Ce, Strategic General Manager of GSMA Greater China, Zhang Yu, Chief Technical Officer of IoT Department of Intel, Liu Yuxin, Senior Achitect of Qianxin Group, Sun Jianhong, Senior Vice Chairman of Beijing E-Hualu Information Technology Co.,Ltd, Wang Jiawei, Vice Chairman of Beijing Commsat Technology Development Co., Ltd were engaged in heated discussions, with their comments on the building of internet of things in the post-pandemic era, the application of IoT technology, the exploration of IoT new economy and the scenes of life and production. This high-end dialogue selectively included representatives from international communication organizations and IoT industries and companies of networking system featuring big data storage, chips, satellite-to-earth transmission and security, who provide basic perceptions of how to work collaboratively for exploring the IoT new economy and new model. They also expressed the vision of experts within the industry, which can improve people's confidence in the IoT development of China and the world. Of particular note, Chai Xudong said "The development of internet of things has two important trends: first, in terms of technology, means and business model, what represents most is to fully integrate some AR technology with IoT application areas and relevant technologies IoT itself and let them advance to a new state and new period; second, real economy and digital economy develop in an integrative and innovative way. In fact, the IoT technology is not only an important carrier of digital economy but also an important bridge linking real economy and digital economy."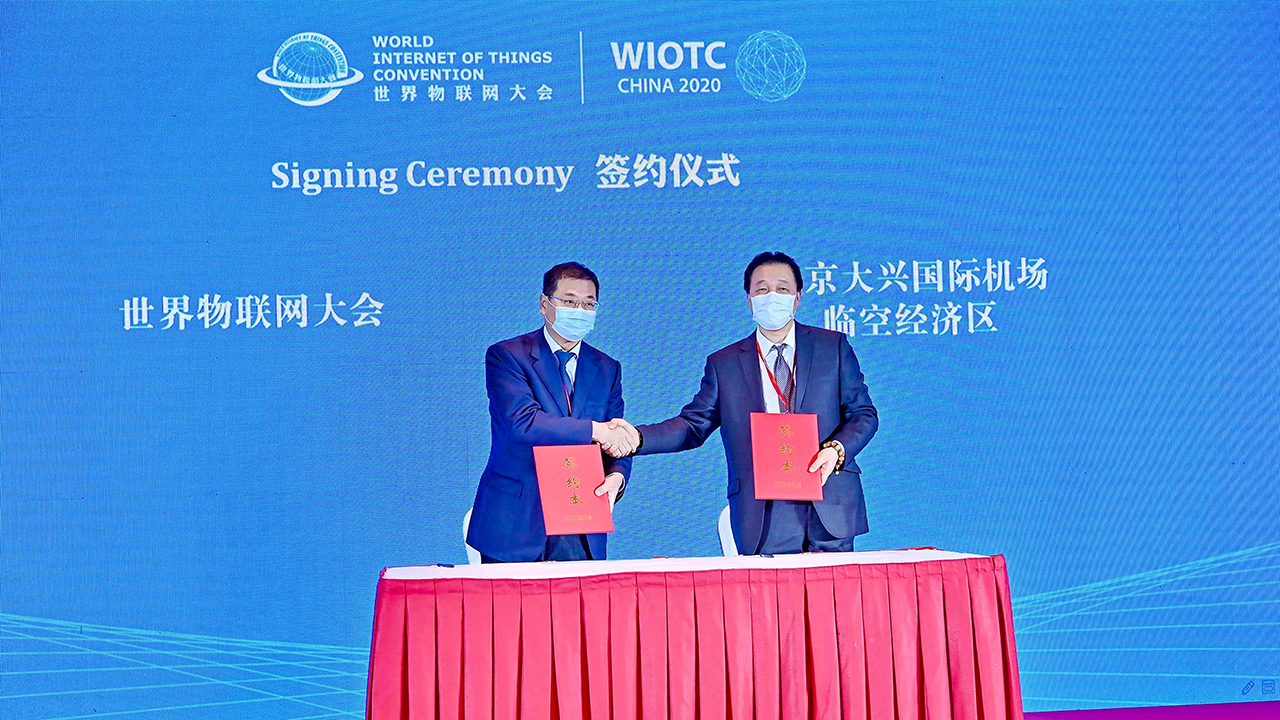 Cao Hui, Chairman of Beijing Daxing Airport Economic Zone and Beijing New Aerotropolis Holdings Co., Ltd, signed the framework agreement with the World Internet of Things Convention and SmarterPlanet Internet of Things Co., Ltd, aiming at jointly building a IoT new economic demonstration zone. With this , they will make early attempt to explore real actions of building IoT new economy model.
Wang Maolun from Beijing New Aerotropolis Holdings Co., Ltd gave a speech on project promotion, explaining "the airport economic zone as the world's largest international hub and comprehensive traffic center." "It possesses international advantages and features, builds the city through digital twin, plans it with 5G technology, and focuses on the application of IoT industry and layout of air logistics. It aims to create IoT digital trade pilot zone, build international digital hub and smart community, foster a good international climate, draw up a blueprint for building a complete digital economy and introduce favorable policies of attracting investment." At the same time, he also hoped to conduct cooperation with domestic and international companies, industries and organizations and the WIOTC so as to promote common development.

The presidium of WIOTC, together with guests of relevant enterprises, bore witness to the online initiation of IoT World Fair. This offers a permanent "IoT fair platform" for global IoT companies and products, marking the beginning of WIOTC's supportive action for the economic revival of China and the world in the wake of Covid-19.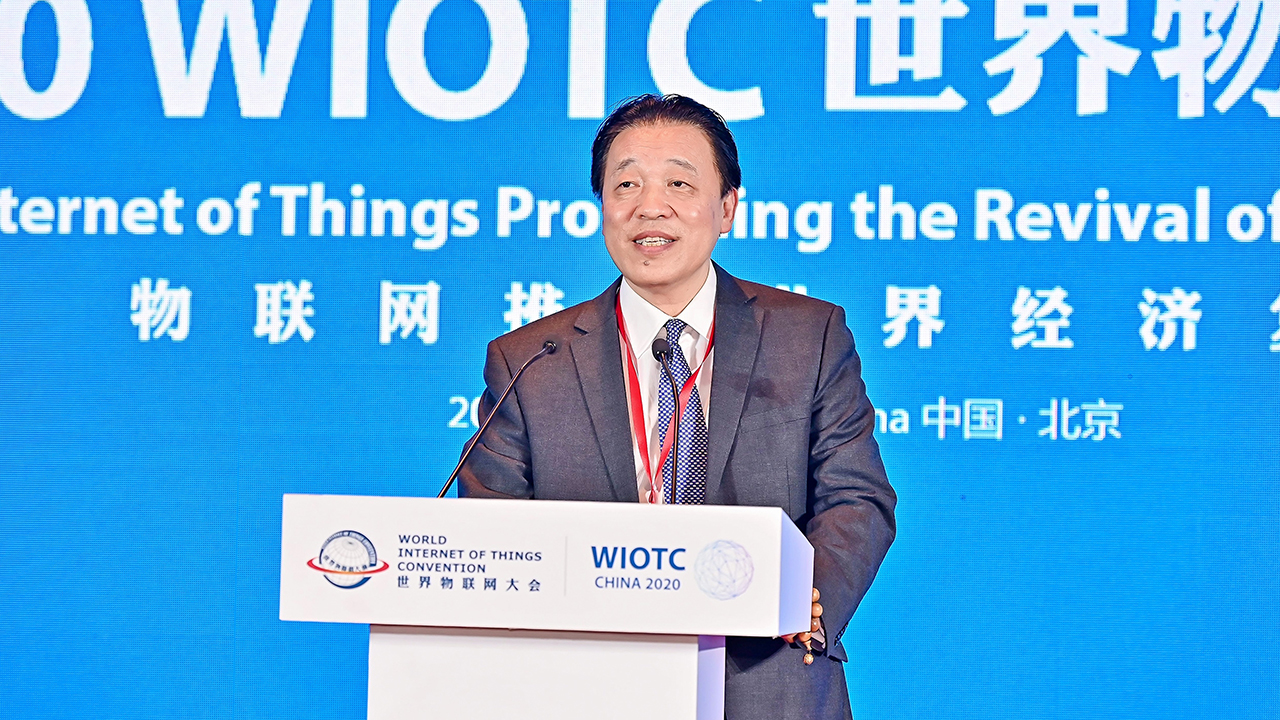 Zhang Hua, Standing Vice Chairman of the WIOTC, gave a speech as a prelude to the special speeches on smart logistics and artificial intelligence and IoT. He said "the year 2020 is an extraordinary year, and we hold this conference at a time when the global battle against the pandemic is in full swing and all countries are taking measures to revive the economy". "This meeting centers on topics such as IoT smart logistics, artificial intelligence and IoT for the purpose of sorting out and sharing IoT theories, research and development and applications that help to boost and contribute to the revival of world economy".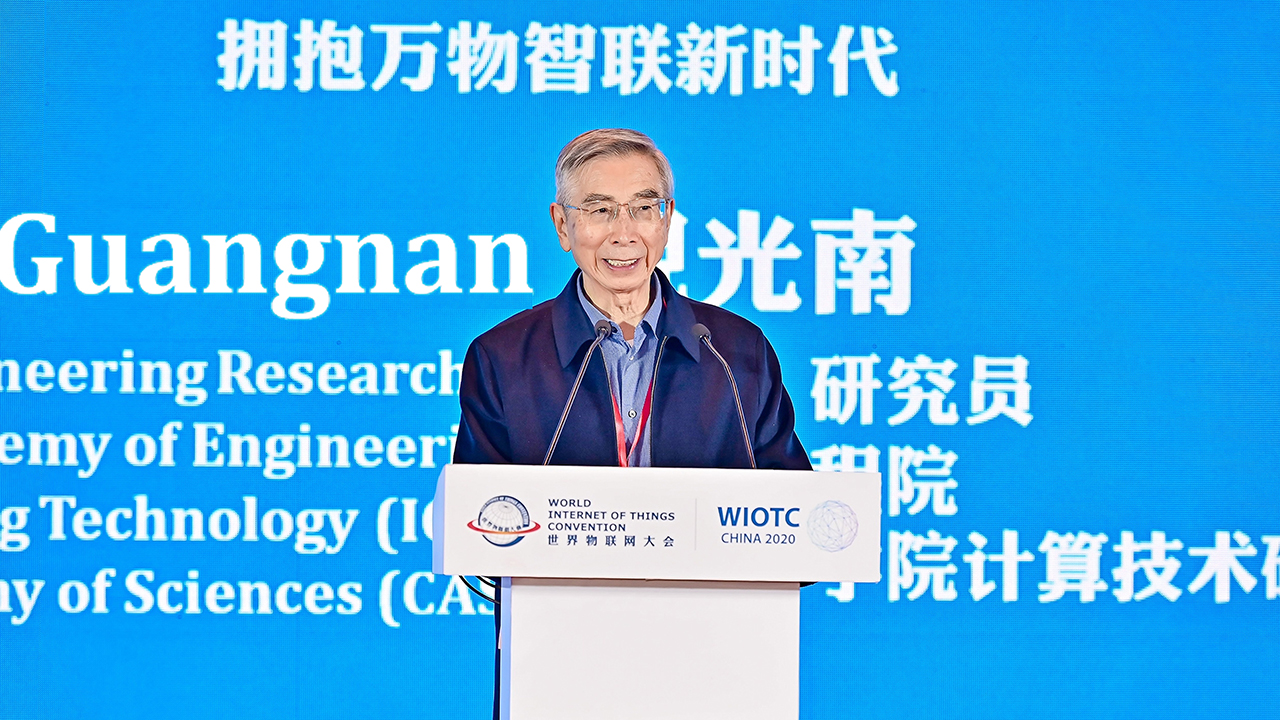 Ni Guangnan, Academician of the Chinese Academy of Engineering, delivered a keynote speech on "Embrace the New Era of Smart Connection of All Things". He suggested Internet of Things will become a new basic infrastructure that allows all things connect an intelligent world, and in the future, it will penetrate into all areas and go further. According to the estimates of relevant think tanks, by 2023, the market scale of IoT is projected to reach 2.8 trillion dollars, with areas involving intelligent furniture, smart office, smart medicare, wearable devices, mobile payment, and intelligent manufacturing. "It is hard for us to predict that the IoT will cover which field in the coming years, but we believe we can foresee all areas will enter an era in which all things are interconnected", he continued. In addition, he introduced ways to prepare and build the Open Smart Connection Alliance. Finally, he said I'm willing to conduct open cooperation with the World Internet of Things Convention and other international organizations, and to join discussions on IoT security and standard as well as enter into cooperation in the fields of IoT industrial development and innovation.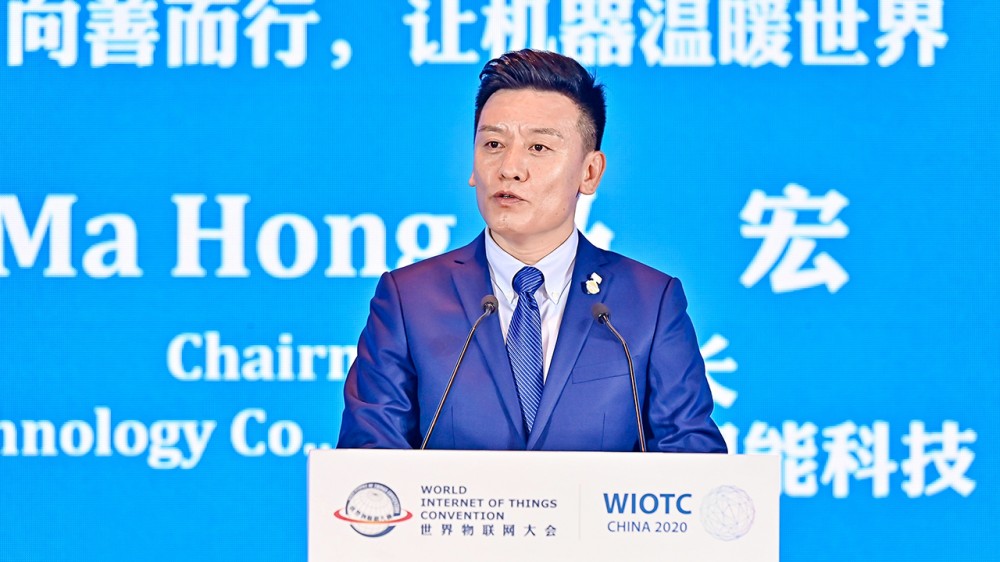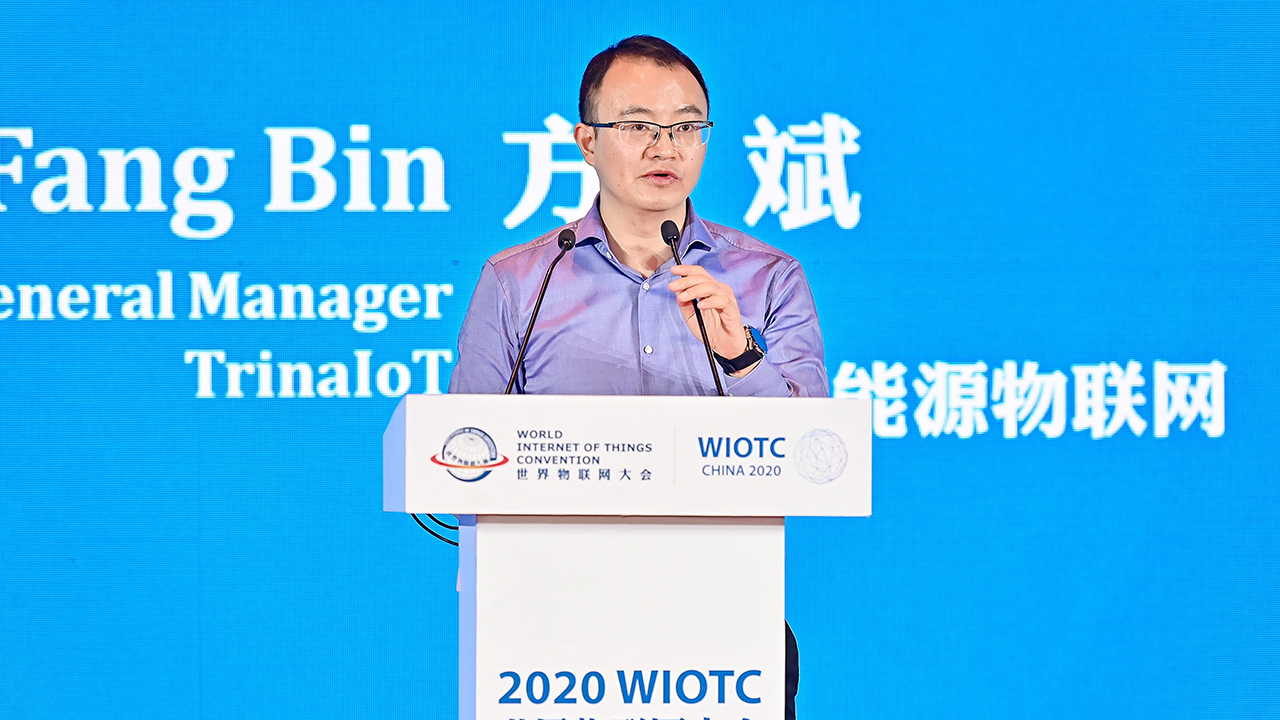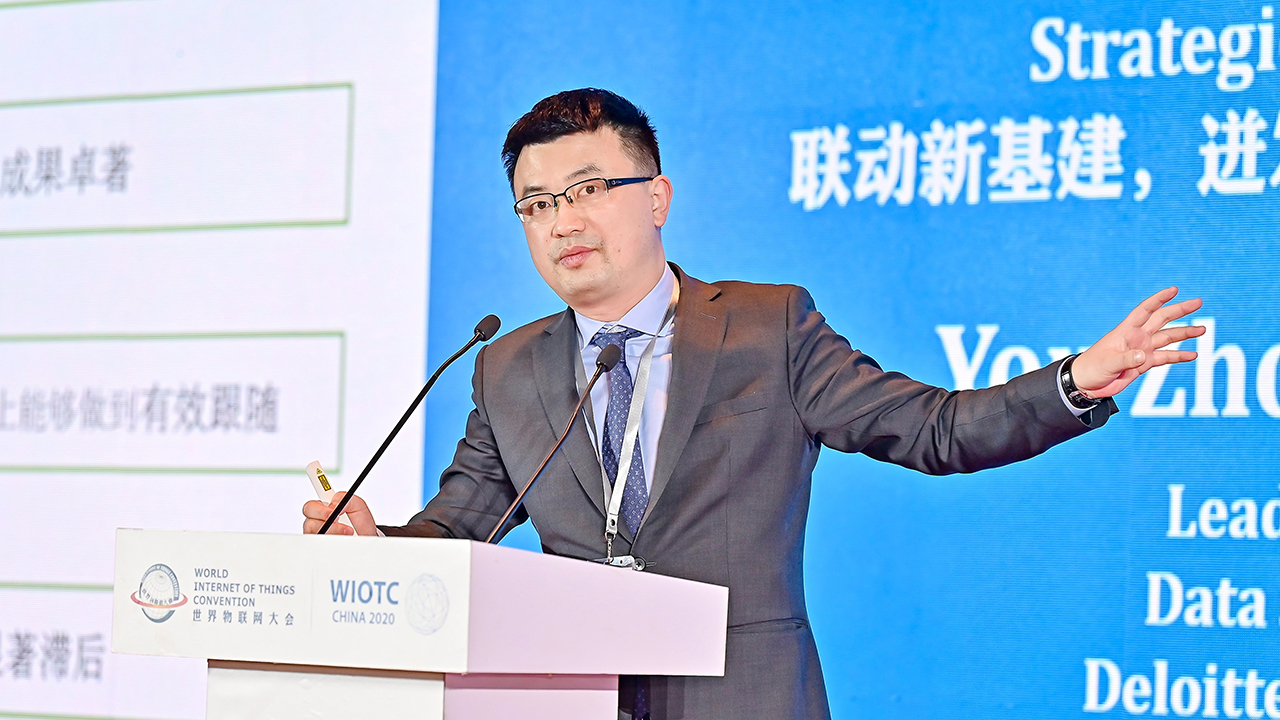 Ma Hong, Chairman of Yixian Intelligent Technology Co., Ltd, Fang Bin, General Manager of Trinasola, and You Zhongbin, Leading Partner of Data Science COE of Deloitte Management, gave compelling speeches with topics such as "Behave in a good way-Let the machine warm the world", "The red and black of IoT development", and "New era infrastructure for new generation intelligence -Strategic advice for winning in the AI era".
Ma Hong introduced the new technology and application scenes of RobCoach, mentioned the present and future potential of driverless technology, and demonstrated the vision and ideal of Yixian Technology for future development.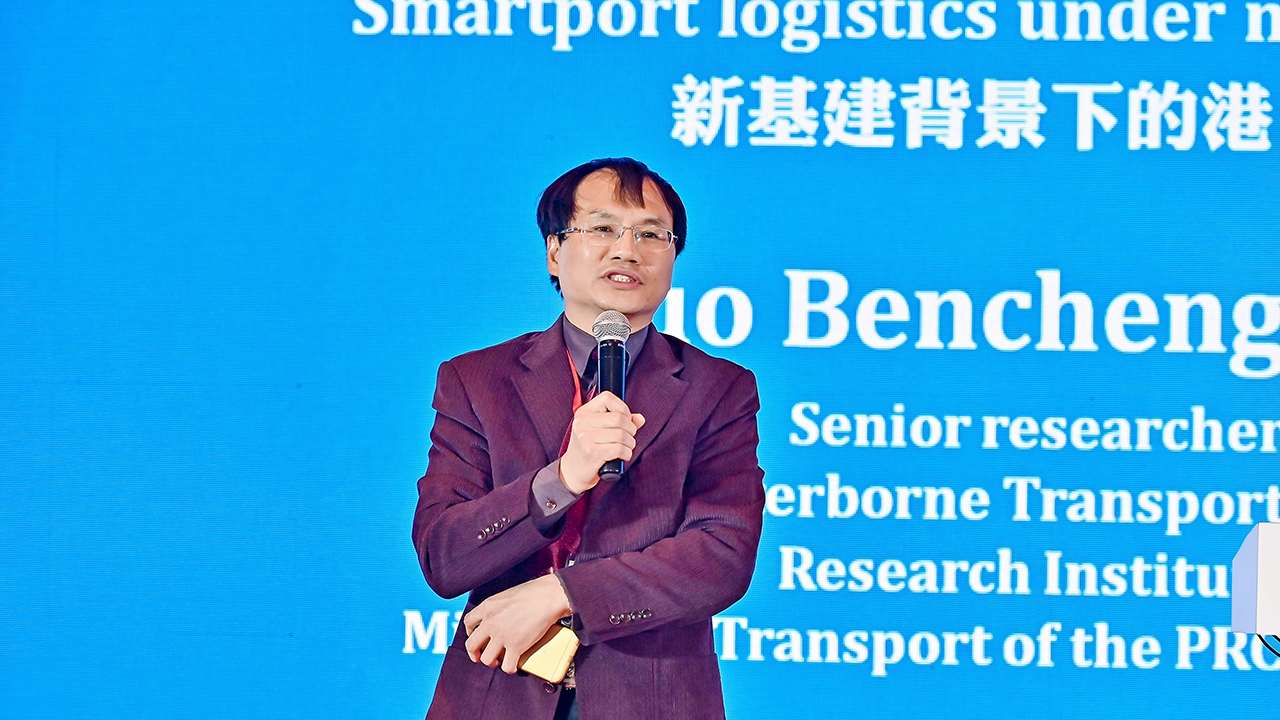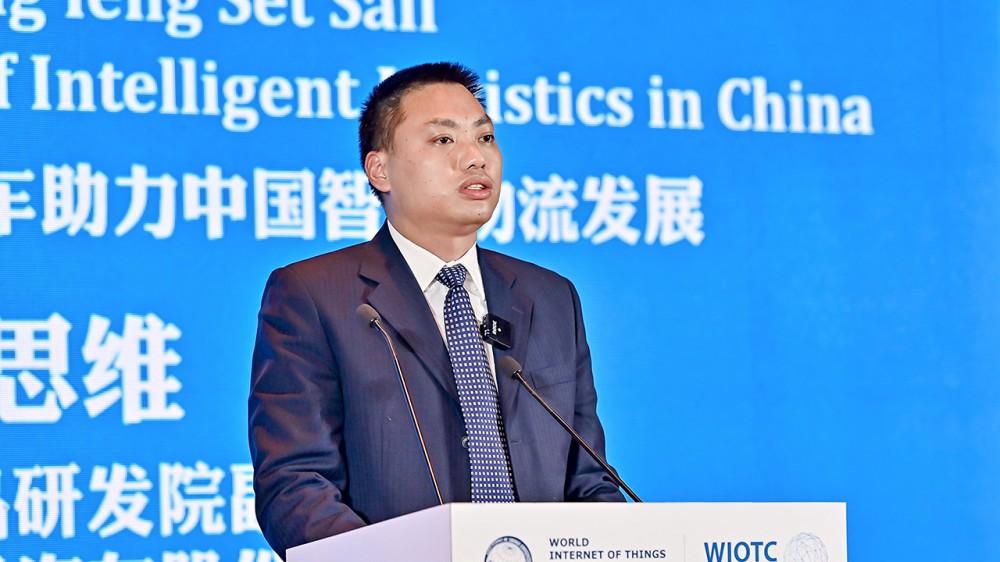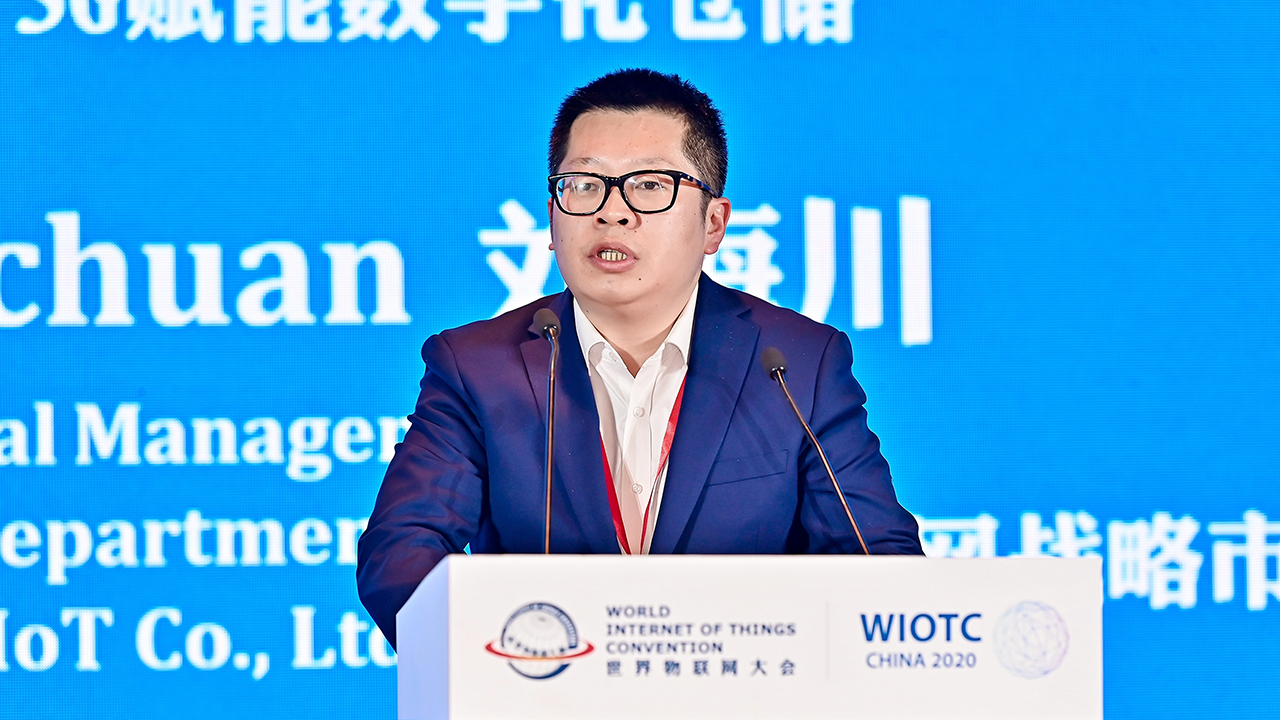 Luo Bencheng, Fellow Researcher of China Waterborne Transport Research Institute and Yin Siwei, Vice Director of Dongfeng Automobile Co., Ltd Product R &D Institute and Liu Haichuan, General Manager of IoT Strategic Market Department of Unicom and other guests provided insightful words based on such topics as "Smartport logistics under new infrastructure innovation", "Intelligent Logistics, Dongfeng Auto Sets Sail-DFAC promotes the development of intelligent logistics in China", and "5G enables digital warehousing".
Mr. Yin Siwei said the research and development of Dongfeng logistics vehicles have created an example for smart logistics and IoT applications and initiated a visualized procedure of close tracing and tracking. And he expressed his willingness to cooperate with the WIOTC to improve the completeness of product technology and logistic vehicle industrial market and standards.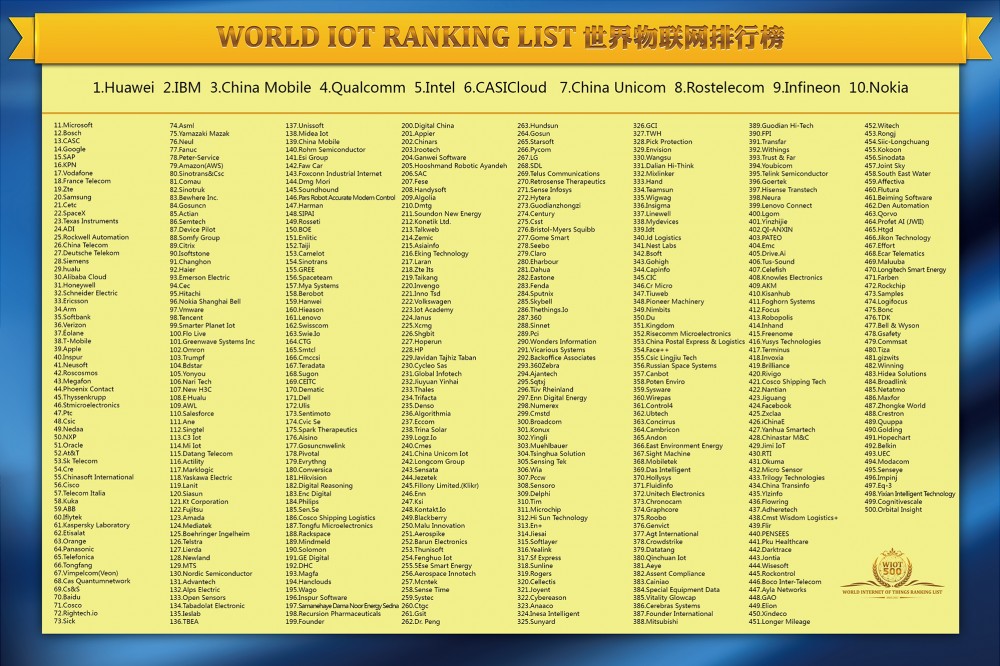 When the 2020 World IoT Ranking List Top 500 Awarding Ceremony was released, the event again reached the climax with heated applauses. The 2020 World IoT Top 500 Enterprises were made public, and Huawei, CASICloud, China Unicom, Intel and Infineon and other five companies were among the top ten. The leaders of the WIOTC issued certificates for representatives from dozens of technological companies comprising CASICloud, China Unicom, IFLYTECH, Trisolar and Yixian Intelligent Technology which were included in the Top 500 List.
As an outstanding representative, Hu Haitao, Architect of JD iCity, made an important speech titled "JD Intelligent City Operating System". He summed up the overall strategy of JD iCity for intelligent city operating system as the city operating system having one core and two wings, but the bottom is the intelligent city operating system, which is the digital cornerstone of the whole city, with more focus on the whole life circle of data and on the governance of data for collection, access, management, storage and detailed operation.

The first WIOT Award was announced as Su Tao, Vice Chairman of the WIOTC, read the name list of awarded companies and individuals, and he extended his congratulations on them. Li Bohu. Academician of Chinese Academy of Engineering, Ni Guangnan, also Academician of Chinese Academy of Engineering and Shi Dinghuan, Chairman of World Green Design Organization won the Special Contribution Award by the World Internet of Things Convention, and He Xuming, WIOTC Chairman, personally issued certificates for the three experts. Ten companies in total received the WIOT Award, including Huawei, IBM, China Mobile, Qualcomm, Intel, CASICloud, China Unicom, Rostelecom, Infineon and Nokia and others. The WIOTC Project Prize was given to Lenovo Connect (Intelligent Connected Vehicle Solution), Qinchuan IoT Technology Co., Ltd (IoT Intelligent Gas Meter), Yixian Intelligent Technology Co., Ltd (RoboCoach), ENN Digital Energy Technology Co., Ltd (Digitalized Energy-saving Solution), Qianyu Technology Co., Ltd (Intelligent Controlling Terminal), and Huateng Animal Husbandry Co., Ltd (Intelligent Biological Ear Tag).
This convention features the high-end, forward-looking and leading nature of internet of things and sounds the trumpet for the effort to explore the IoT new economy. The valuable speeches and discussions here will provide possible directions and feasible suggestions for countries in the world to build and develop their internet of things.


Light logistics vehicles from Dongfeng Automobile are exhibited outside the conference venue.