News Center
WIOTC official news feed, bringing you real first-hand information
News
Breaking News | The Official Website of the United Nations Releases UN Secretary-General António Guterres's Speech to the World Internet of Things Convention
2023-02-12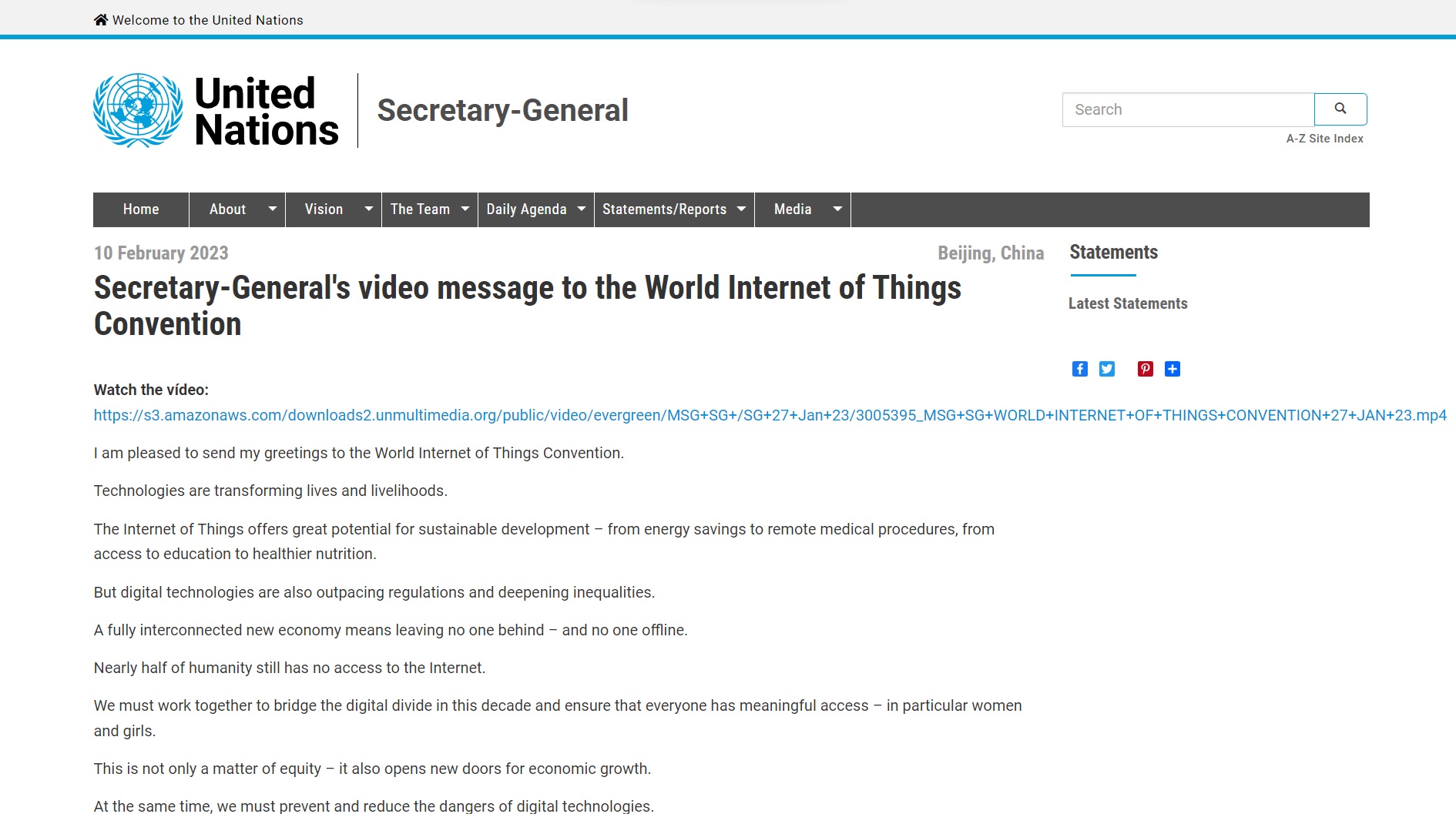 Source from the UN Website: https://press.un.org/en/2023/sgsm21682.doc.htm
The 2022 World Internet of Things Convention was successfully held on February 10 and 11, 2023 in Beijing. H.E. Mr. António Guterres, Secretary-General of the United Nations, delivered a video speech for the opening ceremony of the convention.
We must work together to bridge the digital divide in this decade to ensure everyone has meaningful access, emphasized the Secretary-General when telling the World Internet of Things Convention.
"Technologies are transforming lives and livelihoods. The Internet of Things offers great potential for sustainable development – from energy savings to remote medical procedures, from access to education to healthier nutrition. A fully interconnected new economy means leaving no one behind", he said.
At the conference, Mr. He Xuming, Chairman of WIOTC Executive Committee, delivered a keynote report themed "Build the Fully Interconnected New Economy, Usher in a New Epoch of Wisdom Revolution". The French Prime Minister Mr. Jean-Pierre Raffarin, Prof. Shahbaz Khan, Director of UNESCO Office in Beijing, Mr. Zhang Qin, Standing Member of the 13th National Committee of CPPCC, Mr. Sirous Vatankhah Moghaddam, President of Center for the Progress and Development of Iranian Presidency, Mr. Robert Khachatryan, Minister of the High-Tech Industry Ministry of the Republic of Armenia, Mr. Gong Ke, Former President of WFEO, Ms. Ulrika Francke, ISO President and Mr. Andreas Dripke, Global Chairman of the Diplomatic Council gave important speeches for the conference. Government leaders, ambassadors, counsellors, experts, academicians and corporative leaders as well as media representatives from over 100 countries joined the global event through online and offline formats. According to the statistics, nearly 33 million audiences and guests watched the live link of the international event
Mainstream media including CGTN, Xinhua News Agency, CNR News, etc reported the convention.