News Center
WIOTC official news feed, bringing you real first-hand information
News
2022 World IoT Ranking List Top 500 Awarding Ceremony
2022-08-12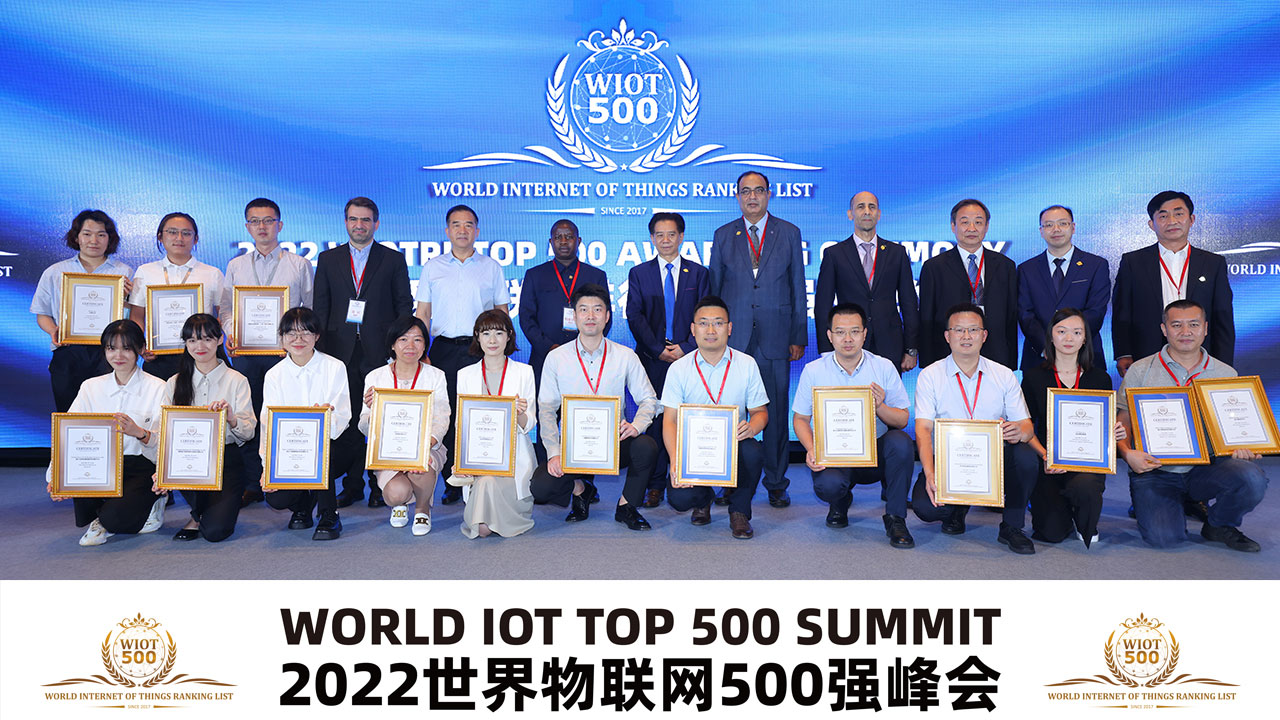 This year's World IoT Ranking List Top 500 was officially at the World IoT Top 500 Summit which was held on August 5, 2022 in Beijing. The UNESCO Director in Beijing Shahbaz Khan, WIOTC Executive Committee Chairman HE Xuming, Member of the Standing Committee of the CPPCC ZHANG Qin, Diplomatic Council Global Chairman Andreas Dripke spoke at the Opening Ceremony of the summit. HE Qiang, Vice Chairman of the WIOTC Executive and Executive Secretary-General made a keynote report before announcing the World IoT Ranking List Top 500. This summit was organized in new forms unseen in the past few summits, including International Forum on the Development of New Economy, State Promotion Meeting, Industrial IoT Forum, and the release and awarding ceremonies of 2022 World IoT Ranking List Top 500. The summit was convened with the aim of enhancing international exchanges and cooperation, encouraging the innovative development of enterprises, reduce digital divide and helping to contribute to the UN Sustainable Development Goals.
The World IoT Ranking List Top 500, known as WIOTRL Top 500, has been released for consecutive five years. This year's ranking list was selected from enterprises specialized in IoT technology and digital economy from over 100 countries. Top 500 enterprises on the WIOTRL account for 70 percent of the output and innovative outcomes of digital economy around the globe and represent the development trend of technological and digital economy in the world.

Different from the past ranking lists, this year's WIOTRL encompasses new added "WIOTRL Gold List" and "WIOTRL Silver List" as well as "Industrial Ranking List" and "WIOTRL Bronze List, which demonstrate the strength and innovative competence of a large number of leading enterprises featuring IoT and digital economy. The World IoT Ranking List has become a most authoritative ranking list focusing on global IoT and digital economy, which has great significance for and exert big influence on the digital economy underpinned by internet of things. The WIOTRL Top 500 enterprises, including Huawei, IBM, Bosch, Intel, CASICloud, Haier, China Telecom, Nokia and Baidu, led the pack again this year. Of particular note, Huawei has topped WIOTRL Top 500 for six years in a row; Haier rose quickly to enter Top 10 of the Gold List. Companies engaged in IoT and digital economy from almost 100 countries appeared on the 2022 World IoT Ranking List Top 500.



The work of application and recommendation of World IoT Ranking List in 2023 is scheduled to start from December 2022. We welcome all companies of IoT technology and digital economy to apply for the ranking and hope WIOTRL Top 500 enterprises make a further progress for better performance in next year's ranking list which reflects their strength and social contribution.