2021 World Internet of Things Convention (WIOTC) Press Conference Kicks Off
2021-12-01
---
On November 30, 2021, 2021 World Internet of Things Convention Press Conference was successfully held online. Hosted by Mrs. Liang Zi, Vice Chairman of the WIOTC Executive Committee and Spokeswoman, it was attended by leaders of government agencies, ambassadors and counselors from over 40 countries and regions. Millions of participants including scholars, corporate leaders, media representatives joined and watched this press conference.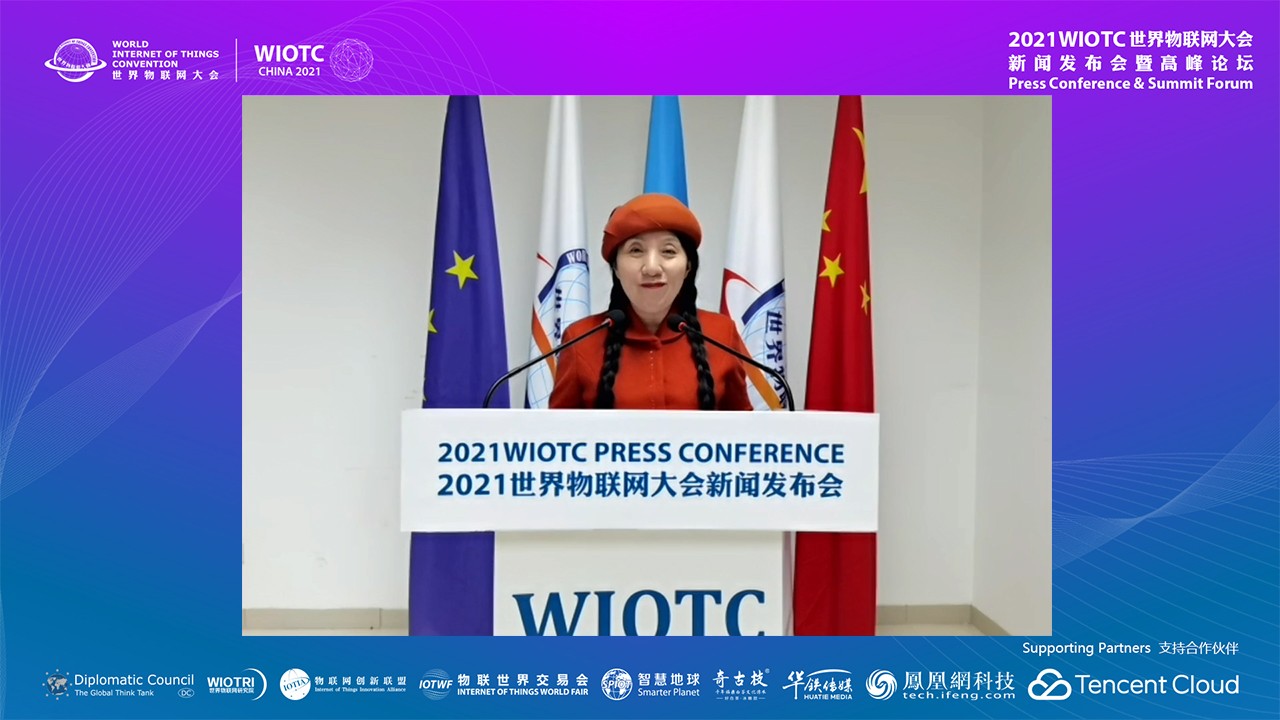 Mr. Su Tao, Executive Vice Chairman of the WIOTC Executive Committee, announced the notice of delayed offline activities of 2021 WIOTC and the news of Summit Forum and parallel forums to be opened online in succession.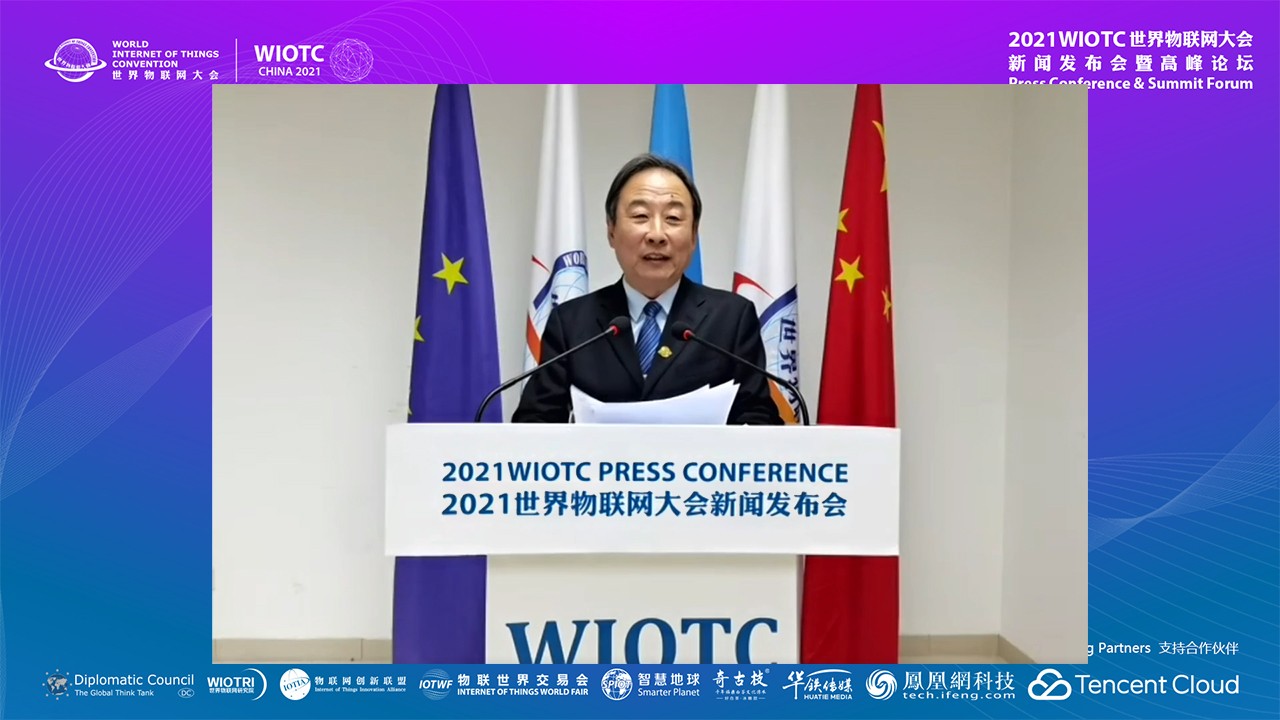 Mr. He Qiang, Vice Chairman of the Organizing Committee and Executive Secretary General of WIOTC, introduced the plan and preparation of 2021 World Internet of Things Convention. Marking the sixth annual conference, this year's event will be organized with the theme of "Creating the New Pattern of IoT Era, Building the New Economy of IoT World". On this occasion, online and offline forums related to IoT industry, agriculture, energy, transportation, healthcare and other sectors will be launched, covering key topics of IoT infrastructure construction, business model and direction of industrial and economic development and new economic model building, etc. Government leaders, ambassadors, counselors, academicians, experts, scholars and entrepreneurs from more than 50 countries will attend this great IoT event.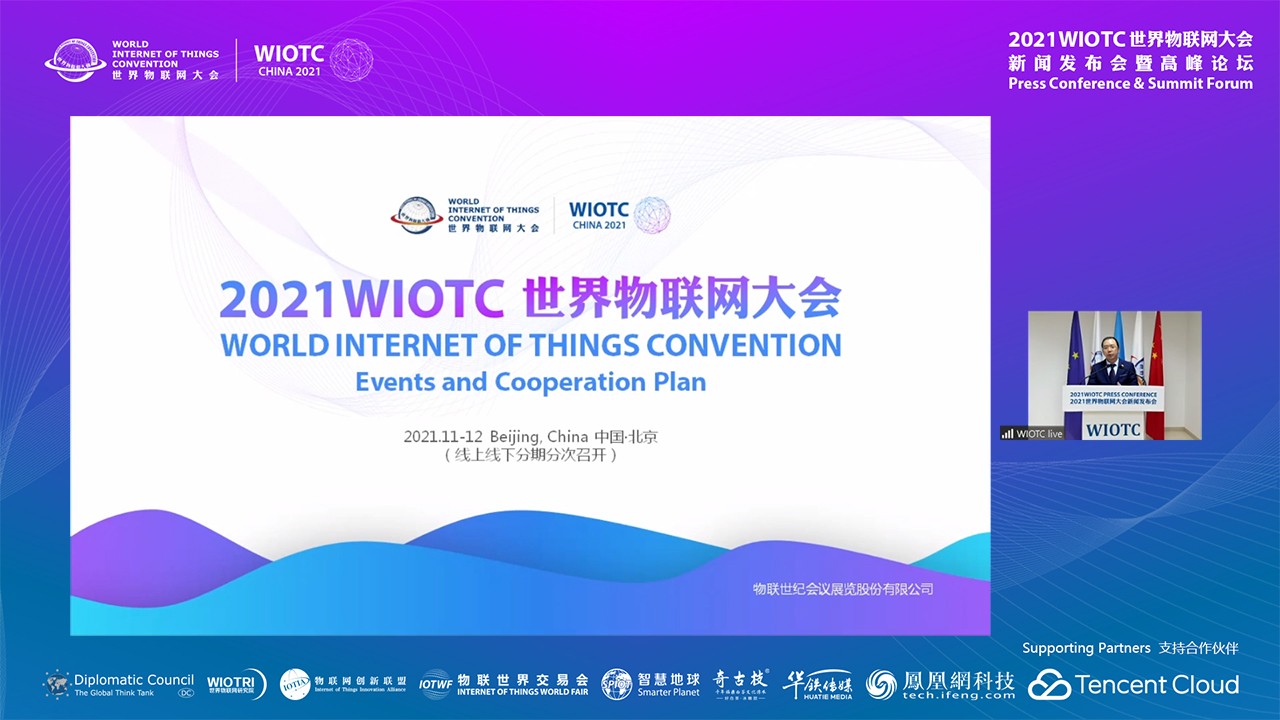 According to his introduction, government leaders, academicians, experts, scholars and entrepreneurs from UNDP, Russia, Germany, France, Switzerland, Poland, Iran and China will be present and speak at 2021 WIOTC Summit Forum.
The 2021 World Internet of Things will feature a series of online and offline activities, the new highlights of which are Ambassador Forum and ten plus parallel forums, online elucidation and offline release of the new version of the World IoT White Paper, online explanation and offline announcement of IoT International Convention Organization Articles, online release of the World IoT Top 500 Ranking List, and the initiative of formulating IoT International Convention, the World IoT Top 500 Enterprise Summit. The World IoT Top 500 Ranking List has been successfully established for consecutive five years, which has actively attracted enterprises from dozens of countries around the world. It has become an IoT top 500 ranking with the most international, influential and authoritative significance. However, as a result of Covid-19, the ranking list will be officially announced at this year's offline conference after soliciting public opinions. This year, Huawei is expected to top the list again, and Microsoft, Intel, China Aerospace Science and Technology Corporation, China Telecom, China Unicom, China Mobile, CASICloud, Qualcomm, Infineon, Rostelecom, Nokia, SpaceX, SAP and other well-known companies are likely to be among top 20. Companies from China, the United States, the European Union, Iran and other more than 40 countries and regions have the chance to win the title of Enterprises in the Top 500 Ranking List. The ranking list serves the purpose of promoting global IoT infrastructure construction and digital economy development, encouraging IoT economic exploration, innovation and industrial application, offering guidance for orderly construction and healthy development of IoT in the world, narrowing the digital divide, and facilitating the United Nations Sustainable Development Goals.
We welcome the world's government agencies, business associations, scientific research institutions and enterprises to join the series of online and offline activities, work together to build the world's first new IoT demonstration base, explore the new IoT economic models and provide reference for countries from all over the world. We especially welcome government agencies and famous enterprises to join the IoT International Convention Organization- World Internet of Things Convention. After becoming a member of the Presidium of the organization, members can formulate the IoT international convention together.
Today, this press conference will be followed by the first online 2021 WIOTC Summit Forum. Let's watch this event with millions of viewers.